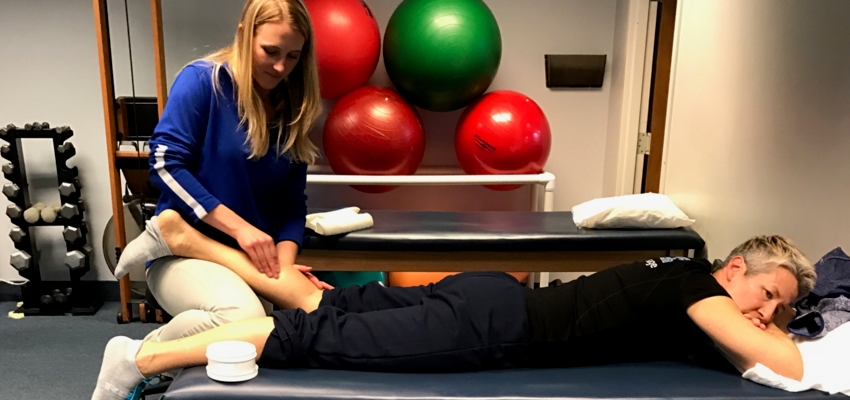 The Fitness Hat Trick
Members at our gym are truly fortunate, not just because they workout in a super cool facility being trained by professional, highly educated and certified trainers, but also because they benefit from the collaboration of two other excellent professional resources; Specialized Orthopedics Physical Therapy and Power of Touch Sports Massage. If understanding how your body works, how to improve how your body works and how to address injuries and nagging or chronic pain is important to you, Olympia Fitness & Performance has got it all. This group of professionals talk the walk AND walk the talk. We all workout at Olympia and get physical therapy at Specialized and get sports massage at Power of Touch because we believe in the necessity of all three to be physically fit and healthy. By participating in all three aspects, we learn from each other and that improves our ability to treat clients. Lucky You!
As a group, we are obsessive about our bodies. No one here is taking mirror selfies, not that kind of obsessive!! We are endlessly intrigued with how our bodies work and we incessantly discuss it amongst each other, for pleasure. Our group of nine ranges in age from early fifties to early twenties with widely diverse backgrounds in education, athletics and life experience. With our relationship, we are able to bounce ideas off each other and pick the collective brain to best help our clients.
The biggest perk is what we learn from each other while participating in each other's businesses. There is no better continuing education than life experience! As I work on my client's tissues, I communicate what I discover and I make logical deductions about what may be causing their issues. My understanding of movement gained from my functional training at the gym guides me in discovering how restrictions in soft tissue develop and also helps me guide clients in their self-care protocol when they leave my office. I am able to give them exercises and stretches that will help and if my clients are not already members at Olympia, I may refer them for personal training when they need more in depth guidance, or I may determine that their issue is greater than I can address and refer them to Specialized for an evaluation. It is a win-win-win!
Specialized Orthopedics Physical Therapy is a group of five highly skilled PTs that leave no stone unturned when it comes to addressing your injuries and pain. I have been a patient at several other PT offices that were really quite good but SOPT is by far the best. There are no weak links here, every therapist is top notch and again, they work as a team to give you the best care. When physical therapy is done though, let's face it, you are not always 100% and that's where sports massage and post-rehab come into play. Specialized will release you from their care when they determine you are ready to move on and will refer you to Power of Touch for continued soft tissue work and to Olympia for personal or group training so you can continue to improve and get stronger under an educated and watchful eye. Many people fall off the therapeutic wagon when they leave PT because they don't feel ready to workout on their own and don't really know what to do. Olympia Fitness & Performance is the perfect place to bridge that gap!
Olympia has a program for every level of fitness with a focus on functional movement; exercises that simulate regular daily movements with a focus on core stability. All group workouts address whole body fitness and balance. Personal training is for anyone from rehab level to professional stature. Certified Strength and Conditioning Specialists provide baseline and sport specific testing and design training programs to improve performance. You may have tried every kind of workout out there from Zumba and step-aerobics to Cross-Fit and boot camps but after your first workout here, you will definitely say, "I've never done anything like this before." I am one of those people. I have belonged to pretty much every gym in the West Bay area and tried every type of class out there. No other workout is as effective, efficient and complete. Steve, the owner, is also TPI Golf Certified and can help golfers take their game to a whole new level. During those times when you are struggling with aches & pains and range of motion issues, trainers may guide you in stretching or mobility exercises and will recommend sports massage or physical therapy when appropriate.
The beauty for you is that all the professionals involved in these three businesses have many experiences working with each other and can recommend you to the appropriate services with the utmost confidence. The benefit for us (and for you) is the knowledge and experience we gain from working with each other.