Group Fitness Classes
Get the benefits of a personal trainer at a fraction of the cost. Our group fitness class package offers a variety of classes, all focused on getting your body feeling it's best while also helping you achieve your personal fitness goals. Join with a friend or group of friends who can do the same workout at their own intensity level. Whether you are just a beginner or are looking to take your workouts to another level these classes are for you! Experience a variety of workout styles that will get you in the best shape of your life!
CALL 401-467-6701 NOW TO GET STARTED TODAY!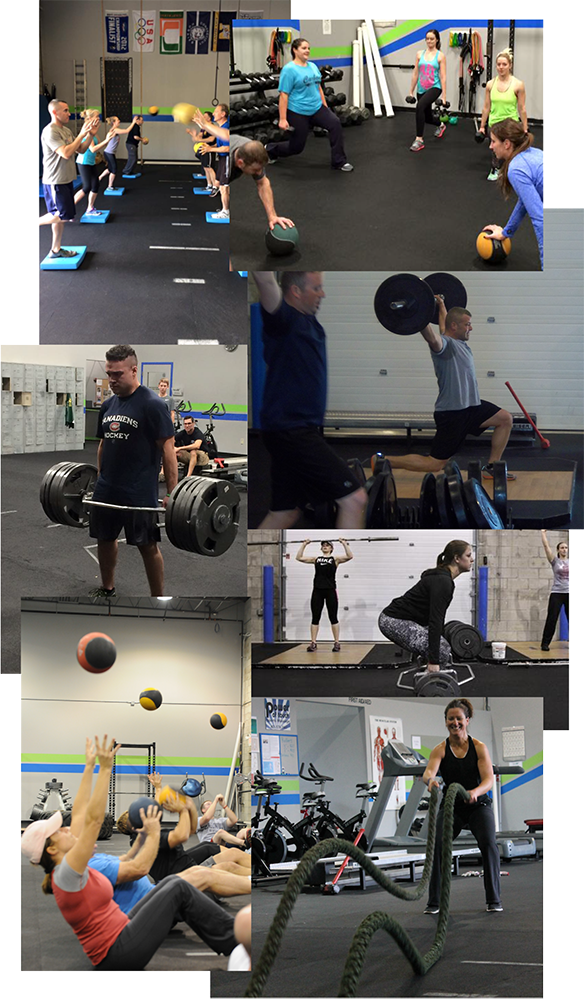 Functionally Fit
Functional training has become a buzz word in the fitness world, but at its core it means that you are training your body in natural ranges of motion to perform the way that it was built to perform. This class utilizes many different types of exercises from barbell squats, to medicine ball throws, to band exercises commonly seen in physical therapy settings. The variety in exercise selection and programming is endless, bringing a new challenge to each class. Every workout is customized to the individuals in that particular class so regardless of whether you're a beginner or have been working out your whole life the intensity will be just right for you!
Tactical Elite
Lifts, drags, crawls, carries and sprints, this class is designed for our first responders and anyone who wants to train like one! Similar to our Functionally Fit classes with some adaptations specific to the duties performed by first responders, you're sure to be challenged in this class regardless of how fit you are. Push yourself to new levels with people who are used to working in the most extreme of settings and see what it's like to train to be the best that you can be!
Heavy Metal
Sometimes there's no feeling like just picking up heavy things. Work with Olympic lifts and traditional barbell lifts in a structured and safe environment. Regardless of whether or not you consider yourself to be strong, anyone can do these lifts safely with the proper instruction and exercise prescription. This class will not only give you a killer workout and get you feeling stronger than ever before, but also teach you a lot about the core fundamentals of proper lifting techniques.
High-Intensity Core
Do you feel like you didn't get a good workout unless you hit your max heart rate and are laying in a puddle of your own sweat? Then this class is for you! High-Intensity Core is a combination of speed and agility training, high intensity interval training (H.I.I.T), and a long core training session as a finisher. If your goal is to increase cardiovascular fitness or get your summer six-pack then you need to come to this class!
Firefighter PPA Prep Training
Do you want to be a firefighter in RI but have trouble passing the Physical Performance Assessment? We have the solution! The trainers at Olympia Fitness + Performance have created a program specifically designed to give you the required level of fitness as well as the skills required to pass your test. You will not only improve your fitness level but will also practice the Keiser Sled, the dummy drag, and all of the other tasks required to excel on your test. We can't do the work for you and you still have to put in the effort to be the best you can, but we will give you all of the tools and experience that you need in order to pass!