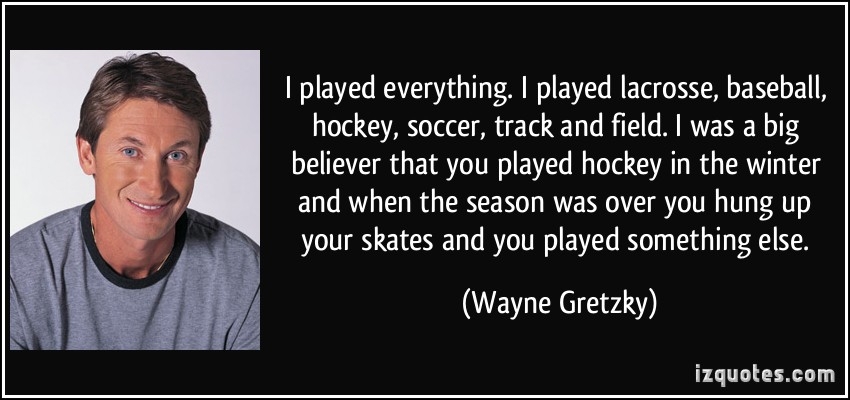 One Sport May Be Too Much
Playing one sport year round won't get your kid to the pros. In fact if anything it may hurt his or her chances.
In today's world we've all become obsessed with the idea of instant gratification and when we want something we want it as fast as possible. So then more practice at one specific skill or more time spent on one thing must make you better at it right? Not necessarily.
One area where we see a lot of this is in youth sports. With the advent and popularity of travel teams and AAU teams we see kids spending all year focusing on one sport and not developing the movement skills that they would build by diversifying their activity types. One person who seemed to catch on to this concept before many others started to realize it is Urban Meyer.
A few months back an image hit the internet that showed that Urban Meyer recruited mostly multi-sport athletes to play for his National Champion Buckeyes. And by "mostly" I mean to the tune of 42 multi sport athletes, and only 5 "football players". What got me thinking about this topic though was not necessarily just the idea of talent development, but also the risk of injury that we see.
Just recently ESPN published an article on this past year's NBA rookie class and the toll that injuries took on that class. They state that of the top 11 rookies drafted in last years class, 8 of them "suffered serious injuries", and 4 were injured to the point where they had to miss more than 35 games (1). So over 1/3 of the top picks missed almost half of their rookie season due to injury! In the article one of the factors that they blame is early sport specialization.
Being in a profession that deals with young athletes all of the time, we frequently see kids who end up taking time off due to overuse injuries. Often times we see baseball players with rotator cuff strains and tendonitis from playing in 3 leagues in the summer, seeing a pitching coach year round, and playing fall ball after the summer season ends. So when are these kids supposed to heal? Eric Fish wrote an excellent article last week about femoroacetabular impingement (FAI) in hockey players and how it affects their off-ice training. One of the big takeaways from that article was that the mechanics of skating in hockey can contribute to, and exacerbate, the structural changes that create FAI. So given that information, is getting your kid on the ice year round necessarily the best strategy to make him a better hockey player?
Wayne Gretzky disagrees with that idea, and I'd say he became a pretty good hockey player. His thoughts on the subject?:
"If a sport has a high point of the year, it must be the first week of spring. When I was growing up, I used to love this time of year. It was when I put my hockey equipment away and I was absolutely ecstatic to see the end of the hockey season. One of the worst things to happen to the game, in my opinion, has been year-round hockey and, in particular, summer hockey. All it does for kids, as far as I can tell, is keep them out sports they should be doing in the warmer weather. I could hardly wait to get my lacrosse stick out and start throwing the ball against the walls and working on our moves as we played the lacrosse equivalent to road hockey. All the good hockey players seemed to play lacrosse in those days and everyone of them learned something from the game to carry over to the other – things athletes can only learn by mixing up the games they play when they are young."
Tom Brady is also a pretty good athlete with a few accomplishments, but also played baseball and basketball in high school. He was actually drafted as a catcher out of high school but opted to play football for Michigan instead. In his late 30's now he has recently been seen playing basketball and golf with Michael Jordan and is also known to be an avid surfer. And speaking of Michael Jordan, he, Deion Sanders, and Bo Jackson can be listed as some of the great athletes to continue to play multiple sports even in their adult years.
There is a lot of carryover from sport to sport and even from "free play" to sports. Ever think of sprinting as a way to increase your power in your golf swing? No? Well the rotational forces used by the body during sprinting have a direct carryover to the amount of power that you can create in your swing. How about tennis to work on lateral speed and agility for football? Playing games as a youth such as tag and capture the flag are some other great strategies to increase speed and agility. What about soccer to work on foot skills for other sports? There are endless examples of qualities that carry over from one activity to another, and sometimes more of the same thing isn't actually better.
While many parents think that they're giving their kid a leg up by placing them into one sport year round, they're probably actually doing the exact opposite. Not only are you taking away from their ability to enjoy each season for it's sport, or even just playing outside and increasing overall athleticism, but you're also increasing the chances that they develop overuse injuries. There are plenty of professional athletes who played multiple sports when they were growing up. There are also plenty of regular Joe's out there who played one sport year round and didn't make it or even just got sick of playing that one sport and quit on it.
Kids need to be active, in today's society more so than ever before, but they don't need to be thrown into a single activity year round. In all honesty you're probably doing more for kids by giving them a well-rounded dose of multiple sports, structured strength training, and time to enjoy free play. But don't take my word for it, just take a look at some of the worlds greatest athletes and how they got there. Also while you're pondering the issue at your kid's next AAU game, take note of how many parents have had their kids go to the doctor or physical therapist because of an overuse injury and it may just make you reconsider what's best for them.
Related Reading:
Want to train with the staff at Olympia Fitness and Performance but can't get to our facility? Check out our Online Training Services!

Steve Zarriello is the owner of Olympia Fitness and Performance, located in Cranston, RI. He has been training clients of all different ages, abilities and backgrounds to help them reach their specific goals for 10 years. His primary focus is on working with golfers to help improve their ability to play the game and keep them pain free.
Resources:
(1) Holmes, Baxter. Hurt locker rooms: The four injury risks today's young players face. ESPN. http://espn.go.com/nba/story/_/id/13217004/the-fou….