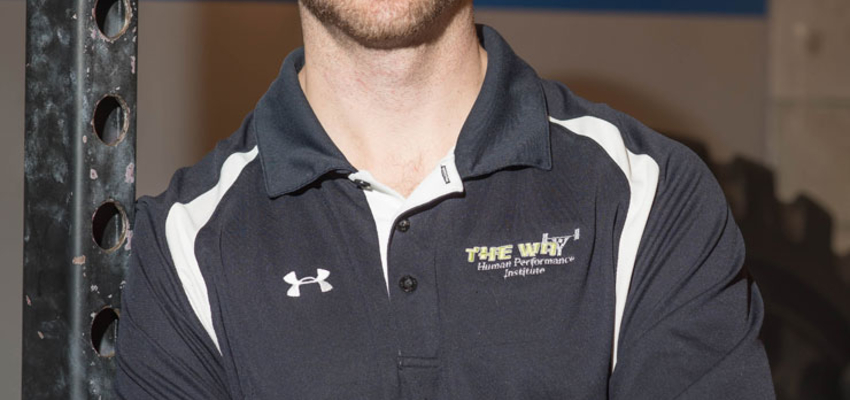 My Farewell
As many of you know, I will be leaving The Way and beginning a new chapter in my life and career. It's absolutely a bittersweet feeling. I'm 100% confident it is the right decision for myself and for my career, but that certainly doesn't make saying goodbye to a place that has become a home, and people that have become family, any easier.
When I look back on the last five years of my life, all of which I've spent working towards becoming the best Strength Coach that I could be, a lot of memories start flooding in. I remember sitting down with Jaime, as a client, after many of the tactical classes and just picking his brain. "Why did you pair this and that? What are the benefits of exercise X vs exercise Z?" After awhile, I realized that this was the field I wanted to get into, and decided to change my major from Criminal Justice to Kinesiology. When I was explaining my plans to Frank (who most clients never knew due to his short time as an employee) he ended up completing the only positive act that he ever did for this company; he invited me to come on as an intern. Jaime and Steve were both in agreement with the proposal to bring me on, because who could turn down free help?
Shortly thereafter, Frank was let go because Jaime and Steve both knew how much of a Strength & Conditioning prodigy I was. Totally kidding, Frank was just an idiot. Actually, I'm not sure Jaime and Steve ever complimented me on anything I've done until about a week ago after the pub crawl when I didn't embarrass them by getting too drunk. Go figure.
Believe it or not, when I first started interning at The Way at 20 years old, I was an extremely shy kid around just about everyone. It took me a little bit to warm up to Jaime and Steve and show my true colors. Once I finally did, they immediately regretted allowing me to open up! I kid, I kid. I've done a lot of growing up while working here over the years, both on personal and professional levels. Clearly I'm no longer that shy kid who used to only clean bathrooms and train the extremely young kids, and I owe all of that to Jaime, Steve, and many of the clients I've had over the years. In working here, I've gained confidence in myself, I've gained public speaking skills, I've learned the ability to come up with an insult/comeback at the drop of a hat, and I've learned that the people that surround you on a daily basis have a profound impact on who you become as a person.
I've worked my way up from lowly intern, to part-time employee, to full time employee, all while being a full time pain in their asses.
Let me take you through a quick picture summary of my career at The Way:
This blurry picture right here was my first real difficult task as a part time employee. I tried (and failed) to reign in the La Salle Women's Cross Country Team 2-3 times per week. This might've been one of my favorite groups of all time, though. It was a huge learning curve for me. How the hell do I get a bunch of 15-18 year old girls to workout, when all they want to do is socialize? Here is where I learned that sometimes you have to be authoritative with the kids, otherwise they'll just talk your ear off about the team gossip. This was an awesome group that I learned a lot from, and some of them still come in to this day when they're home from college. Once in awhile we reminisce on how they ran my life for an hour 2-3 times per week and how much has changed since then.
Sometimes our clients would think they were funny and write up a "CrossFish" workout for me. Hilarious. Can you hear my sarcasm? It's there. I was becoming loved by all, slowly but surely.
Just kidding. But if you look closely at the Facebook comments, everyone jumps to my defense! And In reality, that chalk marking actually started by just saying "I love Fish" thanks to one of my many secret admirers. And by many I mean this single person.
As I continued to move up in company standing, Steve began offering to buy me things from Dunkin Donuts! So eloquently put, Steve. I was movin' on up. Look out world!
They even organized an office, just for me!
But as the years kept rolling on, we all became family. We went on hiking trips and organized many other events to make The Way not just a gym, but truly a real (dysfunctional) family.
I even learned to own the things they'd bust me up about. They didn't like me taking selfies so they put up a sign just for me! Then, they bought me a women's sweater that said "#selfies." So what did I do? Bam, selfie…in my selfie sweater…in the mirror that says No Selfies (Fish). Right in your grill, Jaime and Steve. That's another thing I learned when working here, you have to own who you are as a person and never be afraid to just be yourself. Who really cares what other people think about you? As Oscar Wilde once said; "Be yourself, everyone else is already taken." Screw you and your societal norms, world. Yeah I'm a weirdo. I own it.
So there you have it, my time at The Way in a nutshell. As much as they busted me up about always being cocky, or listening to EDM, or just being me in general, I wouldn't trade any of my experiences for the world. I learned to mess with them just as much as they messed with me. Everyone always comes up to me and says that Jaime and Steve are kind of like the older brothers I never had, and I always completely agree. They taught me how to be a professional, they taught me from the ground up about my job and pushed me to eventually become one of the best Strength Coaches in the state, and they gave me countless invaluable experiences that I'll never forget. So, thank you Jaime and Steve for everything over the years, I really will miss working for you guys.
I also have to thank Michelle for the countless massages to help fix all the dumb things I did to my body when I was younger and playing sports. I never knew pain could feel so good.
And finally, to my clients past and present: Thank you. Thank you for always being loyal to me and my services. Thank you for the wisdom you've shared, the advice you've given, and all the times just shooting the shit and hanging out inside and out of the gym. I've gained a lot of true friends and met people that will have an impact on my life for years to come. As much as I appreciate Jaime and Steve, I appreciate you all just as much. You continue to help make The Way one of the most unique training experiences in New England thanks to the fun environment all of you create together.
So here I am, saying farewell to you all as a Strength Coach/Dictator/Reason For Your Torture, but I will continue to perform my workouts at The Way for as long as I'm living close by. I'll see you all around, either in the gym – actually joining you to get tortured, or at one of the many events that we have planned for the upcoming year to continue to create a family environment within the business. Thank you all a million times over for making my life overwhelmingly enjoyable for the last five years.
Best,
Eric Fish